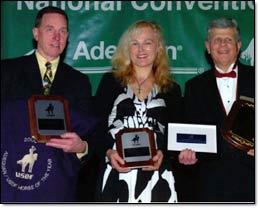 Marion accepting USDF Horse of the
Year awards at convention 2008.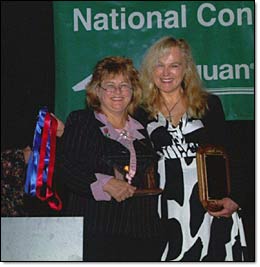 Marion accepting the RPSI All Breed
Awards from Rachel Ehrlich.


2008 Northwest Sporthorse Breeder Association Awards:

Stallion of the Year - Radikal
Broodmare of the Year - Hochkarat
Breeder of the Year - Cocolalla Creek Sporthorses
2008 National USDF Awards:
Horse of the Year w/ Diamondhead (2 year old Colts and Geldings)
Horse of the Year w/ Wolkenkarat (3 year old fillies Materiale)
Reserve Horse of the Year w/ Sunshine (4 & 5 year old mares Materiale)
Rio Rio, Rajani and White Quartercarat (6th in the nation in their divisions)
Top 5 HOY - Sunshine and Hochkarat (mares 4 and over)
Reserve Sporthorse Breeder Of the Year! - Marion Dresel-O'Connor
Marion got her Bronze medal riding Hochkarat at 3rd level.
2008 RPSI All Breed Award Winners:
White Quartercarat first place weanling fillies
Rad Safari second place weanling fillies
Wolkenfabio first place weanling colts
Rajani second place yearling fillies
Rabenschwarz first place two year old colts
Rio Rio first place two year old fillies
Wolkenkarat first place 3 year old fillies
Wolkenkarat first place Materiale 3 year olds