Home

From Bonanza to
Dressage

Awards

Stallions:

Wolkenzauber & Get

Winnetou & Get

Radikal

Diamondhead

Reference Stallions:

Heraklion:
The EuroStallion

Escapade & Get

Mares of CCSH

Sales Catalogue

Foals of 2012

Foals of 2011

Foals of 2006-2010

Rising Stars

Photo Gallery

Press

Contact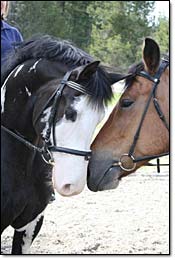 Radikal is the third generation black and white sport horse in our continuing quest to breed and develop the highest quality Overo Colored Sport Horse. We believe that Radikal is probably the most well bred colored dressage stallion in the world at this time.
Radikal combines the bloodlines of the great Rubinstein and the legendary Weltmeyer.

Radikal's first foal Raskal earned a Gold Medal (80%) at the RPSI inspection. A fantastic sport or breeding prospect!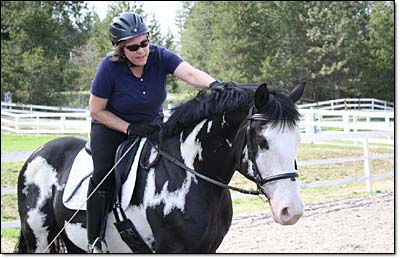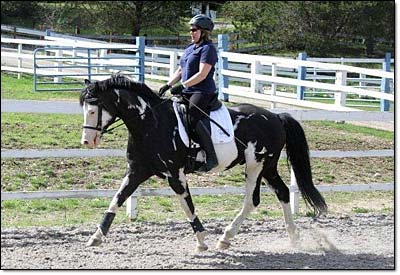 RADIKAL

Sire:
Rotspon
Rubenstein I
Rosenkavalier
Antine
SPS Antalia
Argentan
SPS Paragona
Dam:
Weltskandal
Weltmeyer
World Cup I
SPS Anka
Luxy Te
RJ Papate
Hustler's Sundance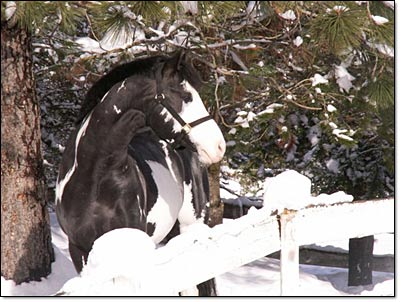 Radikal was born in late August 2002 and received a score of 7.8 at the RPSI inspection at only 5 weeks old. He has developed into a beautiful young stallion with very uphill, elastic movement and a very sweet personality.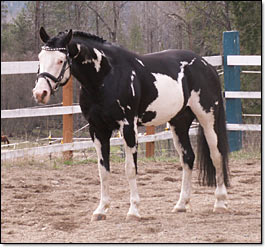 In March of 2004 Radikal suffered a severe cut to his leg (click here for case study) which at first seemed to be healing just fine, enabling us to do some test collections and breeding to our premium Oldenburg mare "When Worlds Unite" who is now expecting Radikal's first foal.
Radikal will stand at stud in 2005, but will be an AI stallion only. We will offer fresh cooled as well as frozen semen.
Radikal was started under saddle in January and we have video tape of Marion riding him recently. He will be sound for pleasure riding and has even gone on trail rides. And, Marion says "He is a pleasure to ride."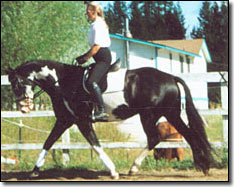 Weltskandal
Radikal's Dam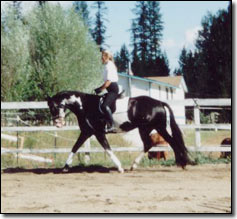 WELTSKANDAL

Sire:
Weltmeyer
World Cup I
Woermann
SPS Sendernixie
SPS Anka
Absatz
SPS Adelsbuch
Dam:
Luxy Te
RJ Papa Te
Tes Impression
Sissy Smooth
Hustlers Sundance
Hustlers Rebel
Gadabout Babe

Raskal
2005 Black Colt with chrome (two white hinds and a blaze) Best dressage bloodlines. Should mature at 16.1. Already showed great dressage movement at two days. We think that he may be the best colt that we have bred to date. Will be presented for registry with RhPSI in September. We're really proud of this colt and he should go to a good show home and become a breeding stallion.

Raskal earned a Gold Medal (80%) at the RPSI inspection. A fantastic sport or breeding prospect!
Raskal

Sire:
Radikal
Rotspon
Rubenstein
Sps Antalia
Weltskandal
Weltmeyer
Luxy Te
Dam:
When Worlds Unite
Weltmeyer
World Cup I
Sps Anka
Elegant Miss
Senior Rebel
Miss Goodtwoshoes (xx)

Riskant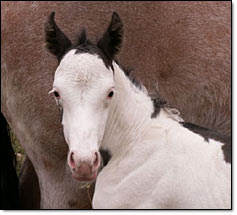 Born on 3/26/2007, this is the first THIRD GENERATION black and white stud colt to come along. This colt is 7/8ths of the best Hanoverian bloodlines and will carry us along in our quest for the ultimate Overo Sporthorse Stallion.

It is too early to know how good he will be, but we expect that he will develop into a fine representative for our breeding program. We will expect his first foal crop in 2009. Needless to say, at least at this time, he is not for sale.

Riskant

Sire:
Radikal
Rotspon
Rubenstein I
St Pr. Antalie
Weltskandal
Weltmeyer
Luxy Te
Dam:
E. M. Fiorenza
Fabriano
Wendulan
Agmara
St. Pr. Fanny Girl
Freiherr
Glamour Girl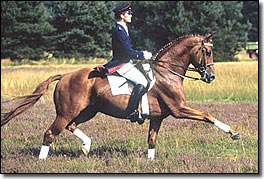 Weltmeyer
Radikal's Grand Sire

Weltmeyer is, quite simply, phenomenal! He added "1998 Hanoverian Stallion of the Year" to his long list of accomplishments: 1986 Hanoverian Stallion Licensing Champion; 1987 German National Champion Three-Year-Old Riding Horse; 1997 Stallion Performance Test Champion; and 1989 DLG Champion.

Weltmeyer has exceptional dressage ability with cadenced movements and beautiful suspension and elevation. He's gorgeous, 16H 1" tall and even jumps well. Video clip available on www.horse-gate.com. Click on Hengste Bewegungen.

Weltmeyer is famous as a sire of champions: seven German National Champion Riding Horses (Wittinger, Weltburger, Wolkenstein II, Wolkentanz, White Star, Wildrose, and Welt Hit IV); 2001 5-year old Dressage Champion Wanesco; two Hanoverian Stallion Licensing Champions (Wittinger and Wolkentanz), two Stallion Performance Test Champions (Wittinger and Wolkenstein II), and in 2001 the National Champion Driving Horse, Gestut Quellensee Westminister! Weltmeyer has 64 licensed sons and 205 out of 473 (almost half!) of his mares have achieved the coveted "States Premium Mare" title in Germany. His first Olympic competitor, Wall Street, competed for Australia in Sydney. His daughter, Weserperle, competes at Grand Prix level in Germany.

Classically-Sired Weltmeyer offspring have done extremely well. In 1993 Wintersong (Weltmeyer/Moira) was Grand Champion at Dressage at Devon as a yearling for Marefield Meadows. In 1999 Welttanzer (Weltmeyer/Femme Fatale) won the Weanling Colts class at Dressage at Devon for Betsy Smith.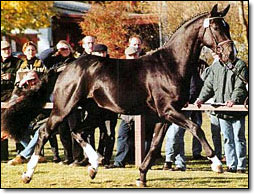 Rotspon
Rotspon is a 16H 2" charismatic black Hanoverian son of the famous dressage stallion, Rubenstein I, born 1995. His damline includes famous broodmare sires, Argentan, Pik Bube and Wendekreis.

Clearly the crowd favorite at the 1997 Stallion Licensing, Rotspon went on to become Champion of the 1998 Stallion Performance Test with a rideability score of 9.5. Video clip available on www.horse-gate.com. Click on Hengste Bewegungen.

Rotspon is already one of the Hanoverian State Stud's most popular stallions. His first foals are eagerly anticipated this year, including eight Classically-Sired foals. His frozen semen often sells out. We recommend ordering early.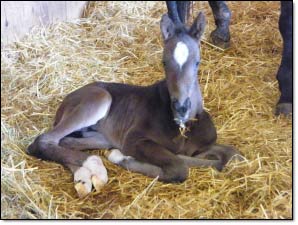 Relentless
Relentless by Radikal out of Grace/TB.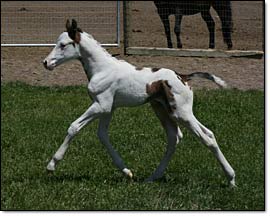 Reality Check
Reality Check by Radikal out of Leagro/Lynx Hol.



Rad Safari


Rad Safari (Radikal x Dakaris/Don Frederico)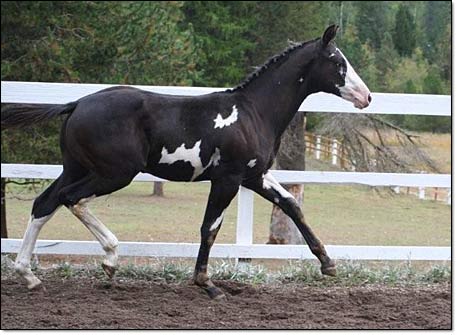 Rabenschwartz


"Rabenschwartz" translated as Black as a Raven was born at the stroke of midnight on February 23, 2006. He is a very nice black colt with a relatively large white spot on the forehead with a narrow pointed blaze running down his face, and one white hind foot (left) and very minimal white on right hind foot.

Rabenschwartz has a beautiful head, neck, shoulder and very free elbow. This is complimented by a very substantial hind end. In other words, he has inherited the best characteristics of his legendary forebears. We are extremely proud of this newest addition to our family of fine warmblood horses.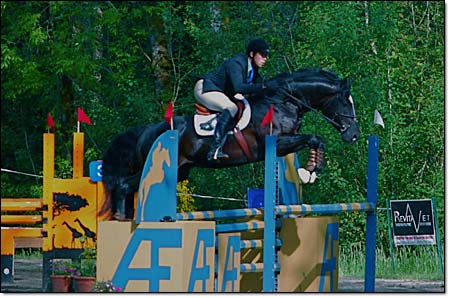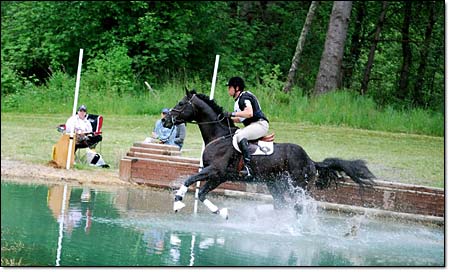 (above, both photos) Rabenschwarz at his first prelim event.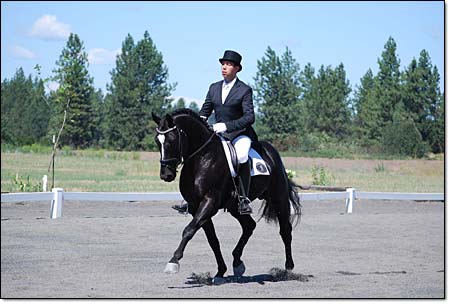 Rabenschwarz (Radikal x Hochkarat) as a 4 year old.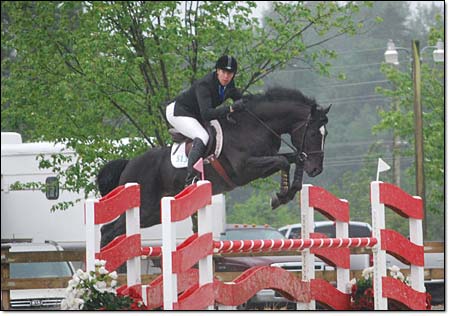 Rabenschwarz (Radikal x Hochkarat) as a
4 year old at his first jumping competition.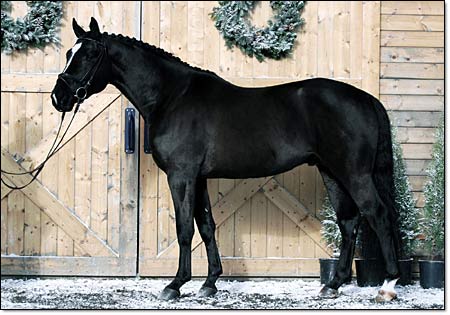 Rabenschwarz (Radikal x Hochkarat) at 2-1/2 years old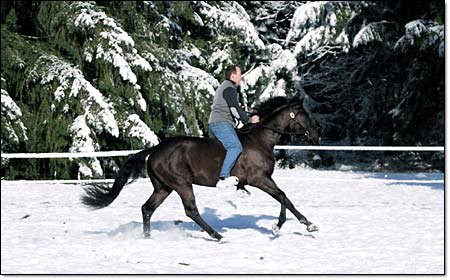 Rabenschwarz (Radikal x Hochkarat)
4 weeks under saddle ... or is he bareback?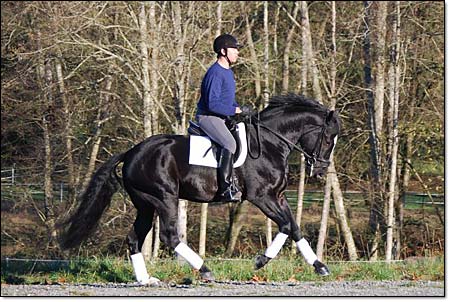 Rabenschwarz (Radikal x Hochkarat) at 3½ years old


Ritz Carlton


Ritz by Radikal out of Davada/TB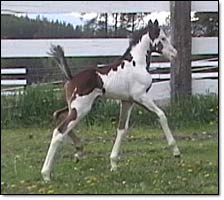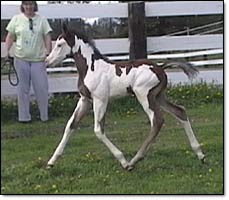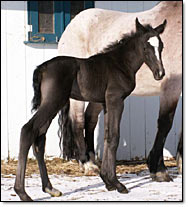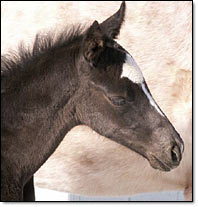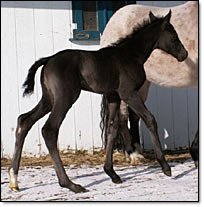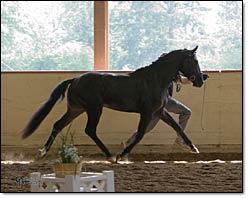 Rabenschwarz (Radikal x Hochkarat) as a 2 year old. He won
USDF Horse of the Year for yearling colts last year.